An Encore of Faith : The Story of Clem Marnel Rama Burgos
By Keziah G. Huelar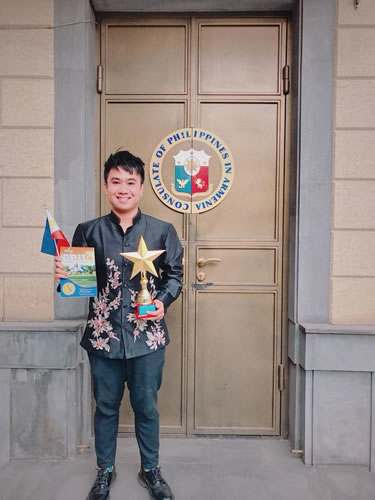 Clem Burgos during his visit at the Philippine Consulate in Armenia.
The applause echoed like a scream thrown into the great beyond. It was momentarily silent, the sight and sound at the Arno Babajanyan Concert Hall slowly faded but it suddenly returned—this time faster, louder, and brighter. The adrenaline rush was not over. Clem Marnel Rama Burgos, a 4th year AB Mass Communication student of Central Philippine University just finished a perfect performance depicting a mentally-ill patient during the 5th International Competition of Arts and Culture held in Yerevan, Armenia on July 7-12, 2018.
Clem garnered a perfect 10 from eight adjudicators. He bested 44 other contestants from 12 countries around the globe. According to him, other than the trophy and certificate, winning this competition and making a mark for Centralians and Filipinos alike was the pinnacle of his victory: "The summary of my experience in the competition was that it was a once in a lifetime opportunity and privilege. I did not expect that by going to Armenia, a lot of opportunities would be opened to me. To be considered as the first Filipino competitor and champion in the said competition made me really see the goodness of the Lord."
As the lone Filipino participant in Armenia, Clem shared that he did feel sad. But with the encouraging words and support he got from friends through social media, he shrugged off the loneliness and pursued the competition with faith and confidence: "I didn't have a trainer or a coach with me. I didn't have anyone. I think it was one of God's ways for me to really push myself to get to know other people. My only comfort was opening my Messenger knowing that a lot of people were praying and supporting me."
On the day of the competition, Clem, all set with his make-up and costume, made his way to the Arno Babajanyan Concert Hall. However, to his dismay instead of bringing him to the said venue, the taxi driver brought him to the Yerevan Opera Theater. Clem recounted the unfortunate event: "Our call time was 11:00 AM, so at 10:00 AM, I left the hotel in full make up minus the contact lens and the bandages. My instructions to the receptionist were very clear; however, instead of bringing me to the Arno Babajanyan Concert Hall, the driver took me to the Yerevan Opera Theater. I got out of the taxi knowing that it was the wrong venue. I was about to cry but God was very merciful and I met an Armenian who knew a lot of Filipinos. He asked me if I was Filipino and I said yes. He brought me back to the taxi driver and he instructed the driver to take me to the concert hall. With my make-up and costume, it was quite difficult to convince the taxi driver that I wasn't really crazy. I showed him my passport with my photo and my invitation to the competition. Although he let me ride his taxi again, he still glanced at me every now and then."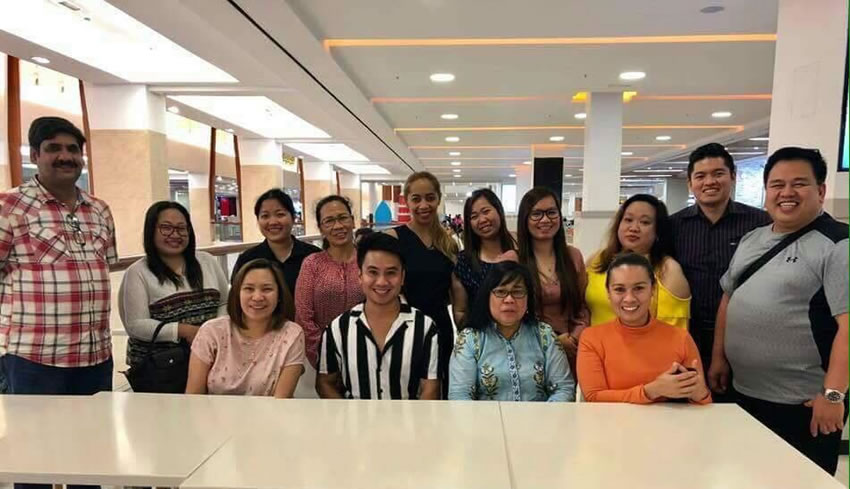 Clem Burgos together with the members of the CPUAA UAE Chapter.
According to Clem, the experience made him realize that success is not earned easily, "I'm very grateful that although that happened I remained positive and I thank CPU for instilling in me positive values that made me persevere. I feel that God really ordained everything."
Preparing for the competition was not an easy task. Clem was supposed to attend an International Conference in Greece but he was not able to comply with the visa requirements, "I felt disheartened that time. I really have this vision to elevate the arts and culture here in CPU. Then again, God has a purpose. I said to myself that I will represent CPU and the Philippines wholeheartedly in the competition."
Sharing a funny experience while travelling from Iloilo to Armenia, he talked of how he had an excess baggage of 4 kg. Thinking quickly, he got his clothes from his luggage and wore them. He also tied some of his shirts around his backpack: "I remember one of my friends telling me that if ever my baggage is in excess, I should wear the clothes I brought. The baggage limit was 15 kg and I had 19 kg, so I wore four shirts. I needed to do that because the fee was expensive. I jokingly said that I was preparing for the cold weather in Armenia although the weather was actually humid there."
Clem's piece was inspired by his experience in psychiatric nursing. Before pursuing AB Mass Communications, Clem already graduated with a degree in nursing from CPU. According to him, his internship in a mental health unit made him think about what provoked people to lose their sanity: "My piece is about a mentally ill patient who felt alone and unloved. I based my performance not only from my experiences in going to Armenia but also in a play where I portrayed Captain Hook—the main antagonist in Peter Pan. I sewed together both experiences. After my performance, I really felt exhausted. I really gave my all."
After his performance, Clem made a courtesy call at the Philippine Embassy in Armenia and Dubai. During his visits, he gave out brochures about CPU and promoted the university to Filipino communities. In Dubai, he had a press conference with the Filipino communities where he shared his experiences during the competition. He also felt the warmth of the CPU Alumni Association, UAE Chapter who supported him.
When asked what makes him very passionate about the arts, Clem shared that it is his ministry, "I had a rough childhood. My life isn't perfect and I draw catharsis from the arts. There are times when I don't live up to the standards of what pastor's kid should be. I used to be very active in the church because of the arts, and then I realized that I could use my talents in the ministry. I can use this to spread the message of God. It is really the field of arts that brought me back to the ministry. I can use this to glorify God. He gave this talent to me so that I can enjoy it and at the same time give him glory."
Clem's stay in the university taught him to preserver, to be optimistic and to be excellent, "CPU has been my second home. I was studying here from nursery up to my second course. The greatest lesson that CPU taught me is the core of scientia et fides, knowledge and faith. I have acquired knowledge not only in nursing but in the media as well, but it was really the lessons of faith. Had it been that I wasn't from CPU, I would've given up. But I persevered. I had that faith to never give up. Talking to Centralians in Dubai, there were stories where they wanted to give up but they persevered because of faith. We Centralians have a common denominator and that is our faith. It is the greatest thing that our university instilled in us."