From Whence We Came
Isaiah 51:1-6
A sermon delivered by Rev. Dr. Elmo D. Familiaran on July 8, 2018 at Chicago, Illinois during the 10th CPUFOAA Global Reunion. Dr. Familiaran is member of the CPU HS Class of 1972, and currently the Interim Executive Minister and Senior Regional Pastor of The American Baptist Churches of New Jersey.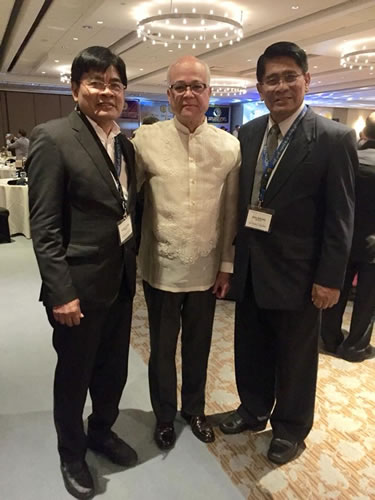 Reunited with cousins - Rev. Dr. Elmo Odin D. Familiaran (center), 10th CPU Global Reunion Closing Worship Speaker, with Atty. Von Lovel Bedona (left), Chairman, CPU Board of Trustees and Atty. Zacharias Bedona (right), Chairman, Filamer Christian University Board of Trustees - the first time in history that both institutions' BOT's are chaired simultaneously by brothers.
The theme of this year's Global Reunion has a rallying cry: "Fostering CPU+s Legacy—Let the Central Spirit Shine!" And like all rallying cries, it draws from a source of inspiration. Key words provide important clues to the deeper meaning of this theme: "Legacy"—something transmitted by or received from the past or from an ancestor. "Fostering"—promoting or encouraging the growth of something.
In reflecting on these descriptors in the Global Reunion's theme, I was led to our scripture text this morning.
The context of our Isaiah passage is found around the fall of the Babylonian empire on October
29, 529 BC. The tribe of Judah, Israel, had been living in exile for many generations under their Babylonian captors. The prophet saw signs of the impending fall and destruction of their Babylonian captors to Cyrus, the king of Persia. And so we see in our text Isaiah exulting in joyful anticipation of exiled Judah's restoration as a people. In his words to the exiles, the prophet emphasizes the significance of historical events in God's plan, a plan which extends from creation to redemption, and even beyond. And as he calls the exiles to hope, he also reminds them that sin is blindness to God's way in history.
"You who seek the Lord; look to the rock from which you were hewn, and the quarry from which you were dug…look to Abraham your father and to Sarah who bore you." God's word of hope comes to the prophet through the reminder that knowledge of God's past revelation is a key to our future salvation. In Isaiah's words, the past is the canvass on which is etched the brush strokes of evidence of God's faithfulness in our past experience. The prophet calls the exiles to maintain a vigilant curiosity of previous events, not so to ensconce them in the past, but to appeal to memory for the assurance that what God promises, God fulfills.
Human beings are the only creatures on earth endowed with the gift of imagination and memory.
Because of that gift, the past, present and the future are not compartmentalizations or separated dimensions of being, but rather they coexist in the same continuum of our existence. We are the only species on earth bestowed with a consciousness of the irrepressible and chronological march of time, with a sense of eternity, and an imagination of the future - A soul, as it were. Said another way, not only do we have the capacity to remember the past, but our experience in the present is informed and shaped by what we have previously felt, tasted, learned; and our memory of the past and our experience of the present come together through time to give us a vision of the future not yet realized but only imagined in our spirit and soul.
Without the consciousness of that story, we will not have roots; and if we do not have roots, we will be living lives devoid of identity and purpose. Our story is the power that sustains our spirituality, and it is so important for the vitality of our faith for today, more than ever, that it is nourished by the memory of our roots.
It was St. Augustine who once described the pilgrim as "the one who sails" – one who sojourns to a sacred place. That has meant a lot to me through the years, because I look at the trajectory that my life has taken from CPU to the US as a form of spiritual journey. I think that our gift of memory is intrinsically bound to our awareness that we are all pilgrims here on earth, as "ones who sail." It is an awareness carved into our mortality that the course of our lives here on earth moves inexorably forward. Einstein has proven that time can be slowed down, but nonetheless it still moves forward and onward. To remember the familiar stations of our journey, and to abide in its gentle companionship, is essential to our wholeness.
In the Bible, special days, rituals, tradition, festivals and feasts are observed to remember a sacred event. All of scripture is strewn with the theme of remembering. In our faith tradition remembering serves as a reminder of God's gracious acts in history. If you do a word search in the Bible, you will extract hundreds of occurrences of the word "remember" and its derivatives. Remembering is a powerful instrument of our faith. Remembering is subversive in scripture. It is subversive because memory is a weapon for transformation. You will recall that one of the first things that colonial Spain did when they arrived in the Philippines was to burn all our literature, our art, our poems, our stories in the false belief that by doing so they will obliterate our memories, our stories and render us more vulnerable to subjugation. This is why spiritual amnesia is antithetical to faith in the biblical tradition. Without the memory of the concrete and faithful actions of God in history, our faith is no more than a cut flower floating in a stream—lovely to the sight, but rootless and drifting aimlessly.
And so one of the most sacred responsibilities of the Christian is to remember, to not forget.
More so now, for we live in a hyper materialistic digital and technocratic society where the only memory that really matters is the one we find in our computer hard drives, iPods, iPhones, cameras and GPS gadgets. Our digital society's primary understanding of memory is "storage capacity." But this is not the remembering spoken of in the Bible. The imperative to remember that we find in the Bible speaks keeps us connected to the living and dynamic actions of a loving God who acts actively in history, whose intentions in those events continue to shape our present through the decisions we make, and compels our future to remain open through promise.
The words of Jesus in the Eucharist are very important -- he told them to do all of these in "remembrance of me." Jesus, however, was not speaking of a passive form of remembering because Jesus never separated himself from his call and from his ministry. To remember him is at the same time to emulate him not only in our words but through our deeds. His mission was inseparable to his identity.
And so legacy is grounded in memory. We cannot foster the lessons from the past if those lessons are not ensconced in our memory. What is the rock from whence we were hewn? From whence do we come as alumini/ae of CPU? We cannot fully appreciate the meaning of what it means to be alumni/ae of CPU if we do not exercise the task of remembering the formative story of CPU which tells how CPU was born, and who the midwives were that ushered its birth.
The first American Baptist missionary arrived in the Philippines in 1900, on the island of Panay in the province of Iloilo, in the town of Jaro. His name was Eric Lund, a Swedish Baptist studying in Spain who commissioned by ABHMS to go to the Philippines. In Spain he met a
Filipino Ilonggo named Braulio Manikan, who was studying engineering also in Spain. After converting him to the Baptist faith, he asked him to go with him back to the Philippines. A year after they arrived, they founded the First Baptist Church in the Philippines, the Jaro Evangelical Church. A few years later, other American Baptist missionaries followed Eric Lund and they founded the Jaro Industrial School. This school started as an elementary vocational school for poor boys who worked for their room and board. In 1913 the school began to admit female students. And to satisfy a growing desire of young people for education, a junior college was opened in 1923 and the name of the school was changed to Central Philippine College. The school faced severe destruction during the war. Post-war reconstruction funded from the US military, and from friends from home and abroad, resulted in a well-designed and attractive campus. It was in the 1950's that the school received university status.
On December 10, 1969, in Norristown, PA, the American Baptist Foreign Mission Society officially turned over and donated CPU to the CPU corporation, represented by Anatalio Viray who was CPU BOT chairman at that time, and to Dr. Rex Drilon, the first Filipino president of CPU. That donation was based on adherence to the articles of incorporation of CPU that enshrines the general educational, charitable, and religious founding purposes of the institution. In 2001, the university received the highest level of accreditation from the CHED, allowing the school full autonomy in its academic and curricular life. And now, CPU is one of the top universities in the country.
This is the rock from whence CPU was hewn.
Our rootedness in our identity determines our rootedness in our sense of mission and purpose. As alumni/ae of CPU, our fundamental task goes beyond the generosity of our time and money in supporting the edifice of the institution. When we remember from whence we came, it becomes clear that there is a larger purpose that transcends the warmth and the fun of our alumni reunion's fellowship (koinonia), there is a grander purpose that transcends the generosity of our financial support to the institution. As alumni/ae of CPU, we are to be - more than anything else – the vigilant custodians of its historic values, to be the embodiment of its heritage, we are to stand on the watchtower, as it were, as sentinels of its founding ideals wherever and whatever station in life we dwell and belong. And let us not ever forget that the roots of CPU's founding ideals were watered and nourished by the blood of Christian martyrs.
CPU Vision: A University committed to Exemplary Christian Education for Life (EXCEL) and responsive to the needs of the total person and the world.
CPU Mission: The mission of Central Philippine University is to carry out a program of spiritual, intellectual, moral, scientific, technological, and cultural training, and allied studies under influences which strengthen Christian faith, build up character and promote scholarship, research and community service.
Core values of CPU: Faith, Character, Justice, Stewardship, Excellence—not perfection but faithfulness. We are to commit to CPU's values in physical ways.
CPU's vision, mission and core values did not come out of thin air. They were hewn from the bedrock of its founding ideals - ideals that were rooted in the passion of a people who saw God's reign already at work in the world. And so I hope that we will all come away from this reunion resolved to deepen our commitment to live out the ideals of CPU in our journeys.
And so the imperative of the theme, "Let the Central Spirit Shine," can only be possible if we do not forget from whence we came. May it be so. Amen.