College of Medicine holds 2018 Commencement Exercises
Keziah G. Huelar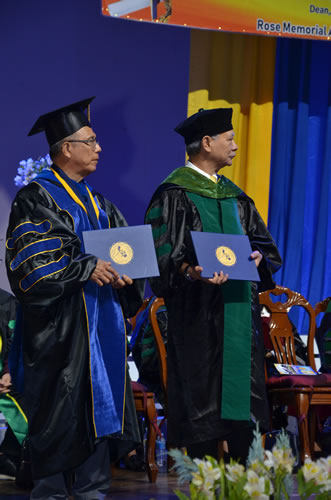 CPU President, Dr. Teodoro C. Robles together with Dr. Henry D. Gonzales, Dean, College of Medicine.
Honoring our Centralian graduates—The Central Philippine University College of Medicine held its 12th Commencement Exercises at the Rose Memorial Auditorium on June 17, 2018.
The invocation and national anthem was led by the Bahandi Singers with Mr. Joshua Jonathan C. Quimpo directing.
For the welcome remarks, CPU President, Dr. Teodoro C. Robles, congratulated the graduates for their hard work and determination. In his message, Dr. Robles also highlighted the role of parents in the success of their children.
Dr. Henry D. Gonzales, Dean, College of Medicine, introduced guest speaker Dr. Nemuel S. Fajutagana, the previous Dean of the National Teacher Training. Dr. Fajutagana began his message by calling the graduates his future colleagues, "I'm happy to be speaking to students and not just ordinary students but graduating medical students. So how do I inspire my upcoming colleagues? Yes, my upcoming colleagues in the medical profession. Perhaps I should tell them how much they are needed in their respective communities or maybe I should share my own journey from my pre-medical years to my current status as a health profession educator."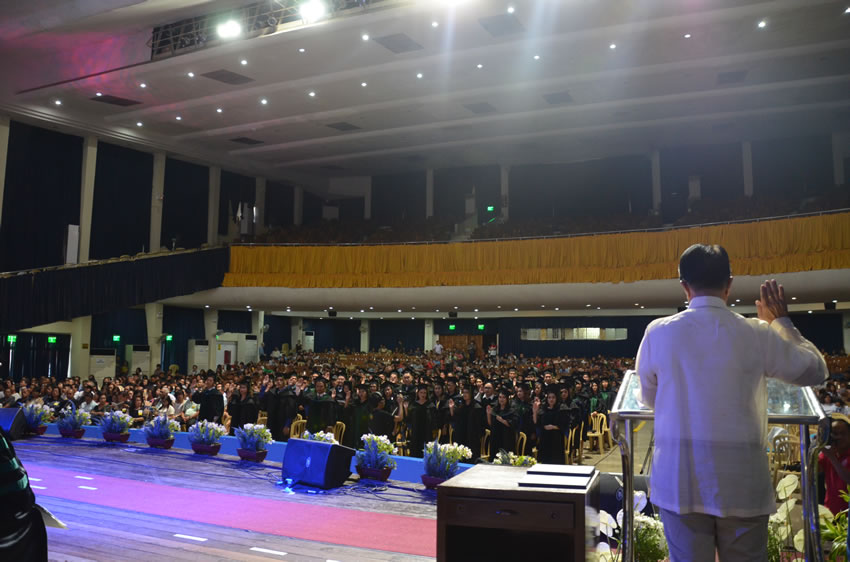 CPUAAI President, Engr. Isagani J. Jalbeuna led the alumni pledge.
He encouraged the graduates to make informed choices in their career, "Choices are usually influenced by two major concerns: opportunity to review for the National Licensure Examination while doing internship or opportunity to hone your general practice and clinical skills. If your concern is the first, I am sure you will opt for a private hospital but if your option is the second, then probably a government hospital."
Dr. Fajutagana also talked about the importance of doctors in nation building and community development by sharing his experience, "To serve the poorest of the poor in one of the poorest regions of the country pushed me to pursue my internship in a government hospital because I wanted to go straight to community health work."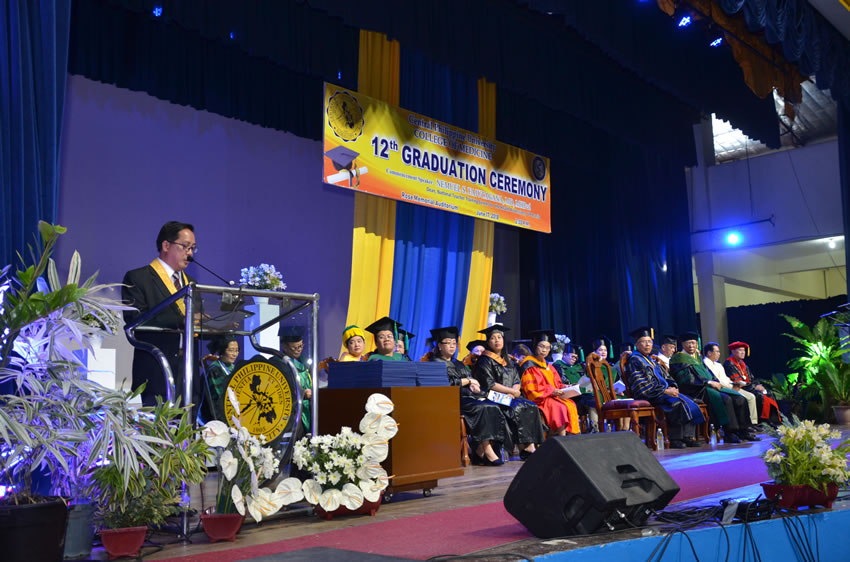 In his message, Graduation speaker, Dr. Nemuel S. Fajutagana talked about the importance of doctors in nation building and community development.


The graduates together with the CPU Administrative officials and the College of Medicine faculty and staff.
After his message, the different groups of graduating students read their group commitment to their professional career and the community-at-large. In their messages, the batched expressed their utmost dedication to offer the best of their abilities in serving their fellow man and in glorifying God.
Dr. Diadem Pearl S. Equiña, Associate Dean, College of Medicine, spearheaded the recognition of students who presented their research in various regional and national medical student congresses and of students who excelled in their clinical clerkship in various medical departments and in their academics.
The presentation of awards was then followed by the conferral of degree and investiture of hoods led by Dr. Robles, assisted by Dr. Gonzales; Dr. Glenn A.M. Catedral, Dean Emiritus; Ms. Charissa June G. Deocampo, Acting Registrar; and Ms. Emerald Joy E. Perucho, Assistant Registrar.
Afterwards, Wendell Amiel S. Jalbuena, Class Valedictorian, led his batch mates in saying the Physician's Prayer. Rev. Cris Amorsolo V. Sian, Senior Pastor, University Church, then prayed for the graduates. Engr. Isagani J. Jalbuena, President, CPU Alumni Association, Inc., led the alumni pledge; lastly, Rev. Sian gave the benediction.