PINTA PADER: CPUR's labor of love
by Cyrus A. Natividad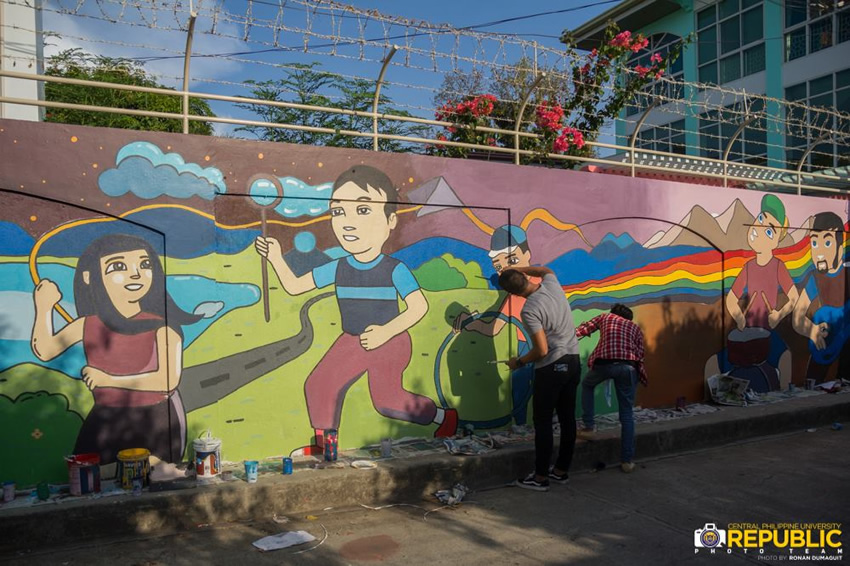 CPUR in collaboration with other student organizations execute the "Pinta Pader" Mural Project on a concrete wall near CPU Gate 7.
Passing through the 7th gate, one could walk along a splendidly done mural over an expanse of the concrete wall of the Missionary House. Thanks to CPU Republic in collaboration with volunteer students, fraternities, and CPU organizations, the admirable initiative dubbed "Pinta Pader" was completed.
The mural painting project was authorized by Dr. Teodoro C. Robles, University President, and was executed by the CPUR on May 22-24, 2018. The mural is a labor of love and gift of the CPUR to the University according to one of the supervising assistants. Mr. Kristoffer George Brasileño, Mr. Mikhie Tolentino, and six other officers of the CPUR supervised the hands-on painting activity.
John Michael Suelo, current President of the CPUR, acknowledged the efforts of all the organizers and supporters of the Pinta Pader and other CPUR projects. He encouraged everyone to be partners in development and help create more projects for the benefit of the students and the University.