CPU holds Summer International Conference for Librarians
by Keziah G. Huelar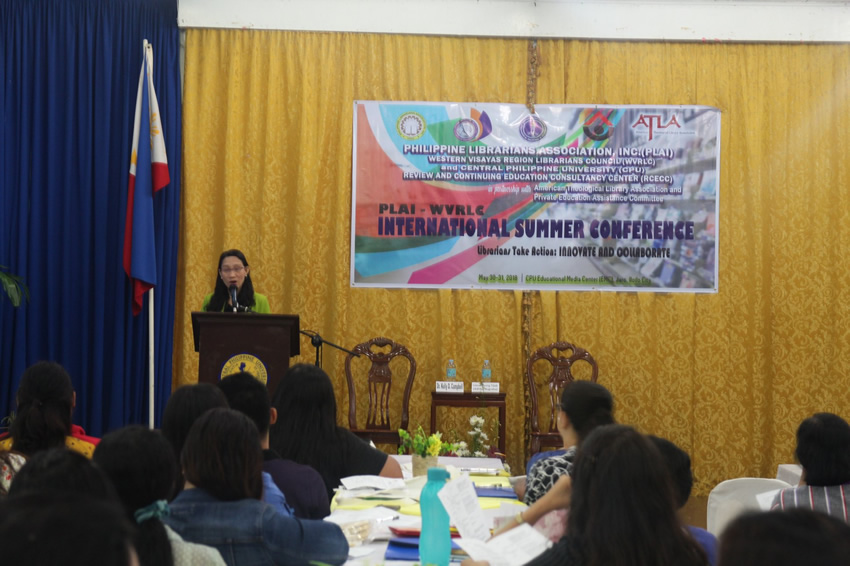 CPU VP for Administration and Finance Florence P. Bogacia welcomed delegates to the Summer International Conference for Librarians.
The Central Philippine University College of Education; CPU Review, Continuing Education and Consultancy Center; Philippine Librarians Association, Inc.(PLAI); the Western Visayas Region Librarians Council in partnership with the Private Education Assistance Committee, Association of Christian Schools Colleges and Universities, American Theological Library Association, and the Philippine Theological Library Association held a Summer International Conference entitled "Librarians in Action: Innovate and Collaborate" at the Educational Media Center on May 30-31, 2018.
For the opening remarks, CPU Vice President for Finance and Administration, Dr. Florence P. Bogacia, recognized the importance of libraries to the development of academic institutions. It was then followed by a message from Christian George F. Acevedo, President, PLAI-WVRLC.
During the first day of the seminar-lecture, guest speaker Dr. Kelly Campbell, Associate Dean for Information Services and Director of the John Bulow Campbell Library, Columbia Theological Seminary in Decatur, Georgia, talked about "Innovative Library Management." On the other hand, Prof. Aditya Nugraha, Academic Librarian, Petra Christian University Surabaya, Indonesia, lectured about "Library Research" and Prof. Elizabeth Toroy Kenny, CPU Archives Consultant and Convener, Forum of Asian Theological Librarians Adviser, discussed "Networking and Collaboration as Experienced by the ForATL."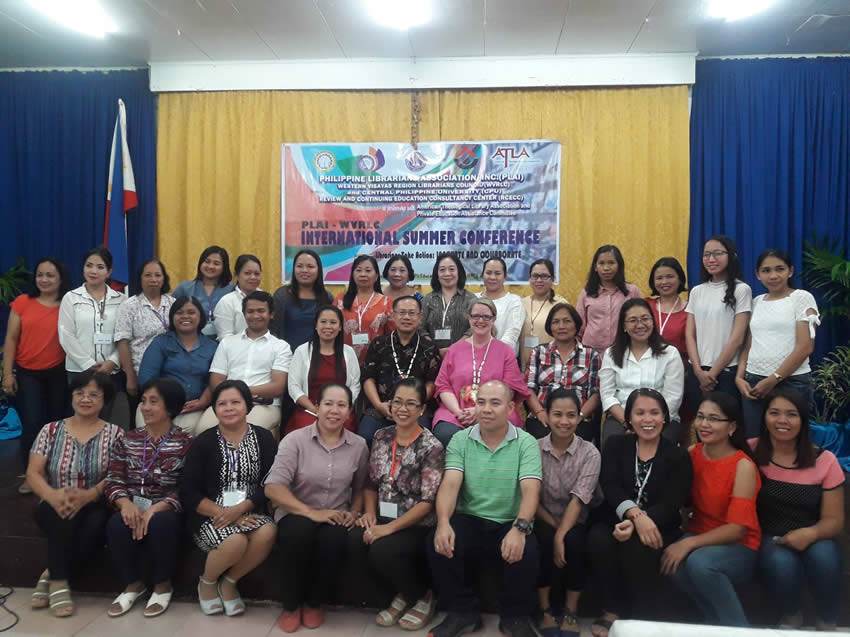 Delegates to the Summer International Conference for Librarians pose for a souvenir photo.
Lectures on the second day included "Issues in Library Management" by Dr. Campell and "Information Technology" by Prof. Nugraha. Ms. Elisa V. Garcia, Head Librarian of the John B. Lacson Colleges Foundation talked about "ISO Accreditation"; Prof. Ana Mae Cantel, CPU faculty, discussed "PACUCOA Accreditation"; Ms. Elra Madalogdog, Head, Technical Services
WVSU University Learning Resource Center, lectured on "AACCUP Accreditation"; and Ms. Regina Maligad, Director of Libraries, University of San Agustin, discussed "PAASCU Accreditation." Dr. Mercedes Monsale, CHED Representative, ended the lecture with a talk on "CHED Program Standards and Compliance."
The closing remarks was given by Dr. Merle L. Junsay, Dean, CPU College of Education. In her message, Dr. Junsay thanked the speakers and participants for a successful two day seminar-lecture.