CPU participates in the 33rd ACSCU-ACI National Assembly
by Dr. Ananias C. Sabijon Jr.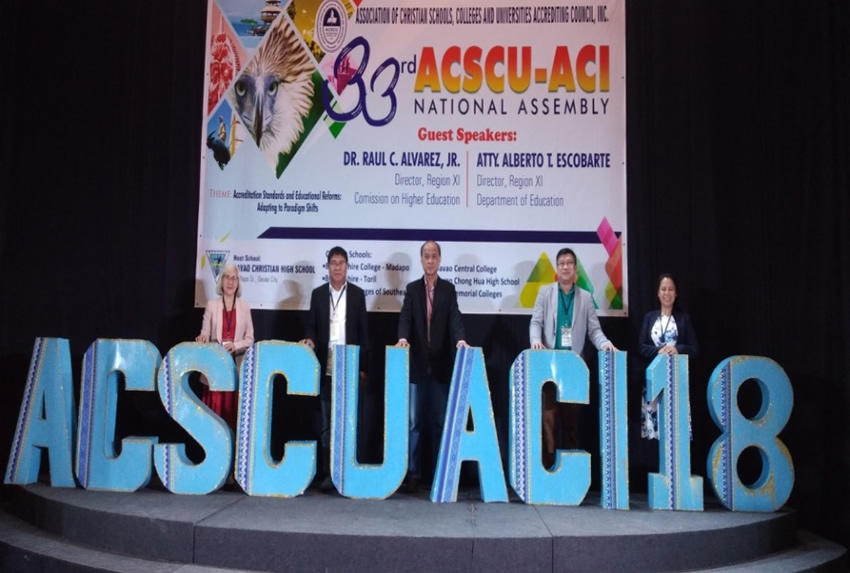 (CPU delegates from left to right) Prof. Madero, Dr. Dusaran, Dr. Rio, Dr. Sabijon, and Dr. Junsay.
Central Philippine University, a member of the Association of Christian Schools Colleges and Universities Accrediting Council, Inc. (ACSCU-ACI), sent five university officials to the council's national assembly held at Ritz Hotel at Garden Oases, Davao City on May 17-19, 2018. Vice-President for Academic Affairs, Dr. Irving Domingo L. Rio led the delegation. The other participants included Dr. Reynaldo C. Dusaran, Director of Accreditation and Instruction; Dr. Ananias C. Sabijon, Jr., Director of the Center for Teaching and Learning Excellence (CTLE); Dr. Merle L. Junsay, Dean of the College of Education; and Prof. Ma. Rosalene J. Madero, Director of the Quality Assurance Center. This year's theme is "Accreditation Standards and Educational Reforms: Adapting to Paradigm Shifts."
Delegates from different ACSCU-ACI accredited member schools in the Philippines participated in the national assembly. Other than the business meetings and updates from the officers of the association, the following theme-aligned and relevant topics were presented by the distinguished keynote speakers: "CHED Program Thrusts in Meeting the Challenges of the New Educational Reforms," "DepEd Program Thrusts in Meeting the Challenges of the New Educational Reforms," "Student Mobility Through Passage to ASEAN," and "Health and Wellness—Ways to Prevent Diabetes," among others.
In addition, the national assembly presented certificates and plaques for degree programs of different member schools that were awardees or have passed their respective levels of accreditation. For this year, CPU was awarded Level II, five-year re-accredited status for its Social Work and Accounting Technology Programs, and Level II, three-year re-accredited status for its Doctor of Management and Psychology programs.
According to ACSCU-ACI Executive Director, Mr. Angelito P. Pedreño, the national assembly was well-attended. For this year, the national assembly planning committee was chaired by Dr. Betsy Joy B. Tan, President of the ACSCU-ACI Board of Directors, with Ms. Franelli C. Pableo, Member of the Board as the Vice-Chairperson of the committee. Director Pedreño served as the national coordinator of the assembly.
Davao Christian High School served as the host school, with the assistance of ACSCU-ACI accredited Davao member schools, namely, Brokenshire College, Davao Chong Hua High School, Christian Colleges of Southeast Asia, Rizal Memorial College, and Davao Central College.