CPUR Night includes Oath Taking and Turn Over Ceremony of incoming officers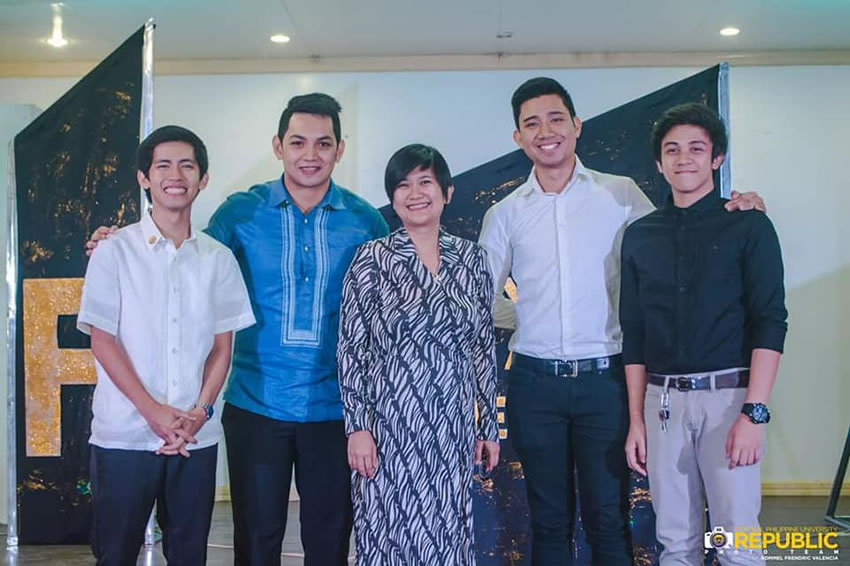 Commissioner Rhea Peñaflor together with 2017-2018 CPUR President and Vice President Jan Christian Española and Sidrik Gotico together with the current CPUR President and Vice President, JM Suelo and Anthony Niguas.
Central Philippine University Student Republic held its Oath Taking and Turnover Ceremony during the CPUR Night on April 5 at 6 in the evening at the Alumni Promenade and Concert Park. The officers were inducted by Commissioner Rhea Peñaflor from the National Youth Commission.
Dr. Teodoro C. Robles, CPU President, shared his expectations from the student officials and members of CPUR. In his message, Dr. Robles mentioned possible changes that the new set of officials could make. He thought that this could be possible if the new officers from different parties can make contributions that would benefit the whole "Republic."
Commissioner Peñaflor encouraged the new CPUR officials to continue on and improve what the outgoing student administration has started. She enjoined their cooperation despite coming from different political parties.
Dr. Margen Java, Director for Student Development Programs, appreciated the outgoing officers for a "job well done" at coordinating and working successfully with the different campus organizations.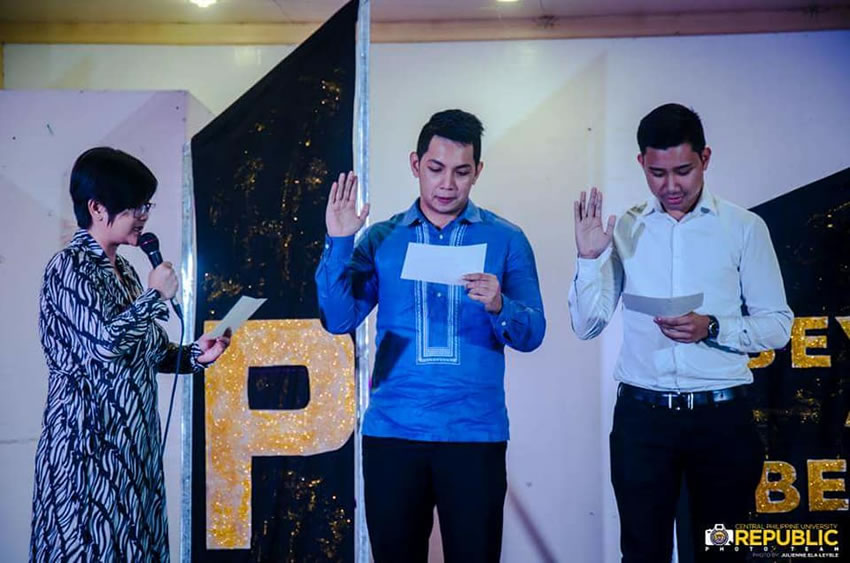 NYC Commissioner Rhea Peñaflor leading the oath of office.
Responsibilities of the outgoing CPUR officers were turned over to the newly elected student officials. The symbolic Gavel was turned over by outgoing President Jan Christian Española, outgoing Prime Minister Charles Arthel Rey and outgoing Vice President Sidrik Gotico to incoming Vice President Anthony Niguas. The symbolic Mace was turned over by the outgoing Prime Minister to the incoming senators. This school year's prime minister will still be voted upon by the newly elected senators.
Newly elected CPUR President John Michael Suelo received the Key of Responsibility from Outgoing President Jan Christian Española. In his acceptance speech, Suelo thanked his predecessors for paving the way to progress. "We will formulate more effective programs and projects for the students and the CPUR government." Suelo also disclosed his plans to the student-citizens of the CPU Student Republic. It includes the strategy they will use to conduct the orientation for the new students and a week-long leadership training of the new CPUR officials. This year's set of CPUR officers are expected to perform well, with their work student and students' welfare program.
The CPU Student Republic is the oldest student government organization in the Philippines.